John and Barbie Vagianos Creole Cooking Class
Hosted by Laura Vagianos and Lynn Reeves
February 20, 2010
This was FUN!
I taught an "in house" class of the menu. Laura and Lynn have a beautiful kitchen designed for just such a class because the counter top and dining area is one with a 360 degree view. This is quite impressive in a New Orleans shotgun home!!!
The Menu:
New Orleans Style BBQ Shrimp
Fresh Spinach with
Crumbled Feta, Walnuts, Sundried Tomatoes
and Cucumber Crabmeat Vinaigrette
Toasted Quinoa, Fresh Peas, and Basmati Rice with Coconut Cream
Red Snapper Filets en Papillote
Fresh Berries with Dried Cranberry Vinaigrette and
No Sugar Heavy Whipped Cream Topping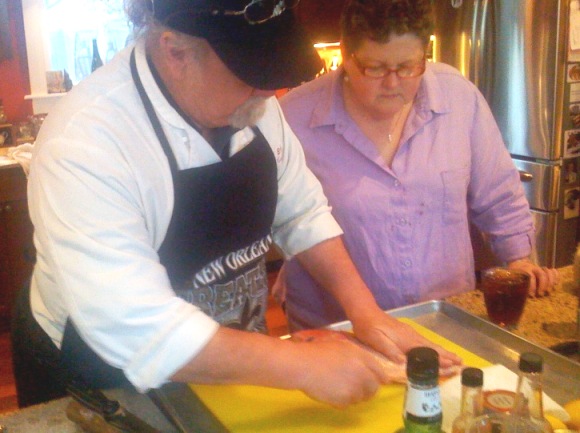 I wanted to show that it is not difficult or slimy to fillet a fish, it just takes a little patience and practice.
The fish, along with the seasonings were baked in the parchment paper folded bag. I demonstrated the traditional heart shaped parchment paper cut and fold of the "en papillote" or "in paper". They teased me because I used a portable air pump to blow up the bags. Well, it was my fault, I told them I had a blow up doll to practice on!
Barbie took right to the proper fold technique, she said it was like an arts and craft project, you go girl!!
My idea was to let everyone choose their own fillings and seasonings. We had fresh thyme, basil, rosemary and dill for herbed seasonings.
I also had sliced some leeks, fresh rice wine pickled red onions, limes and lemons. For dried seasonings I had some roasted Spanish paprika, red pepper flakes, smoked chipotle flakes and a wonderful dried citrus blend.
Everyone folded their own, labeled them with some brushed on butter, then baked for 10 - 12 minutes.
Now it's time to eat and drink some wine, and that they did!!!
Laura kept making me a bottomless glass of Sky Vodka and diet coke!! I was flying high!!
The whole evening was the brainchild of Lynn Reeves to give h John and Barbie a very special Christmas present!! "A Creole Cooking Class Dinner", That is tooooo COOL!!
While they ate dinner, I made some "no sugar" whipped heavy cream for our fresh berry dessert. The dessert was somewhat unusual. Earlier in the evening, I had rejuvenated some dried cranberries with a Modena vinaigrette. I also seasoned the berries with several teaspoons of cracked black pepper and honey. Then after we all just played!!
Contact us for further details....ChefEmile@CustomCatering.net
to Home Cookin' Page or Return to Off-Premise & Picnic Photo Album
Chef Emile L. Stieffel, Aurora Catering, Inc. email address: ChefEmile@CustomCatering.net
Copyright © 1995 - 2010 [Aurora Catering, Inc.]. All rights reserved.
Revised: November 21, 2016.
Like I said, THIS WAS FUN!!!!!