Lauren and David's Engagement Party
Joe and Jo Ann Toomy's Condo
Algiers Point, LA
August 6, 2011
They have such a beautiful view of New Orleans and Algiers from their condo balconies!! WOW, just stunning!!!
OK, don't try to figure this out..... I took this shot at sundown, looking west. BUT.... that is the East Band of the Mississippi River and I am on the West Bank!!!!
You can see the St. Louis Cathedral in the French Quarter!!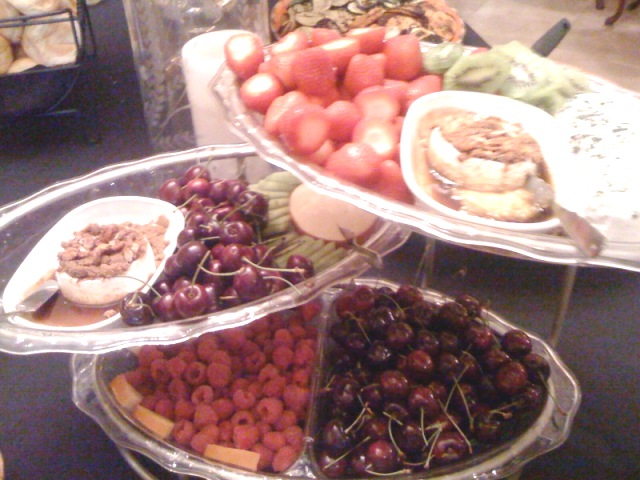 The Menu:
Spinach Salad with Raisins, Currents, Pecans, Feta and Pepper-Jelly Dressing
Penne Pasta, Kalamata Olives, Fresh Basil, Tomatoes with
White Balsamic Vinegar and Extra Virgin Olive Oil
Make ya Own - Smoked Brisket Sandwiches
Flash Grilled Eggplant, Squash, Asparagus and Zucchini Medallions
Seasonal Fresh Fruit and Gourmet Cheese Trays
New Orleans Style BBQ Shrimp and Creamy Grits Martinis
Handmade Cannolis
Contact us for further details....ChefEmile@CustomCatering.net
to Home Cookin' Page or Return to Off-Premise & Picnic Photo Album
Chef Emile L. Stieffel, Aurora Catering, Inc. email address: ChefEmile@CustomCatering.net
Copyright © 1995 - 2011 [Aurora Catering, Inc.]. All rights reserved.
Revised: November 21, 2016